Château de La Buzine, " My mother's castle
It is at the Château de La Buzine, " Le Château de ma mère", that the filmmaker Marcel Pagnol is back for the great exhibition " Pagnol raconte Pagnol " (Pagnol tells Pagnol ) dedicated to him on the occasion of the 127th anniversary of his birth.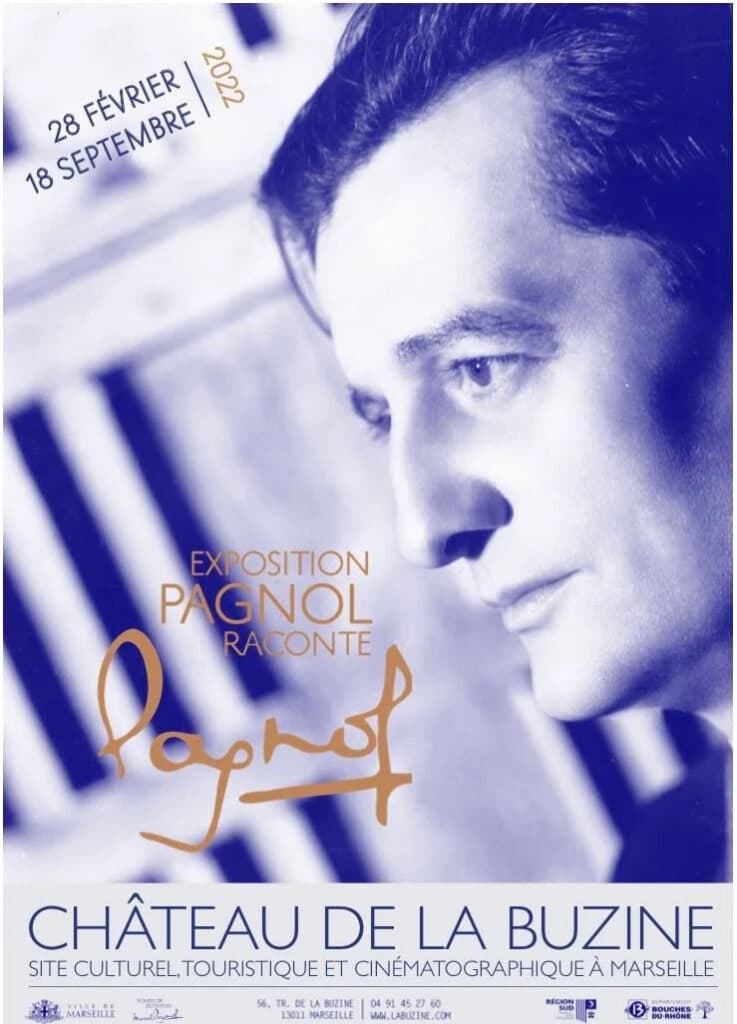 When Marcel Pagnol bought, in 1941, La Buzine property, a 40-hectare estate, his plan was to create there this "Provençal Hollywood" he had in mind. An ambitious project, studios to be built, a French cinema city to be built, just like the ones in Hollywood. When visiting the place, Marcel Pagnol emotionally recognized in this beautiful 18th century building the castle of his mother Augustine's great fear, on her way with the family for vacations in La Bastide Neuve.
La Buzine would forever become "Le Château de ma mère" (My Mother's Castle), the story of which Marcel Pagnol would tell in 1957, in the second part of his childhood memories. "Cinema and I were born on the same day and in the same place" Marcel Pagnol liked to remind. He was born on February 28th of the same year 1895 when the Lumière brothers shot their first film, "La Sortie des usines Lumière à Lyon" (The Exit of the Lumière factories in Lyon), as well as the famous "Arrivée d'un train en gare de La Ciotat" (Arrival of a train in La Ciotat station), with their cinematograph that would cause a sensation. Freedom and modernity, the key words of Pagnol's cinema. The cinematographic work to which this original and intimate exhibition invites us (on 300 m2), at the Château de La Buzine – Maison des Cinématographies de la Méditerranée – responds to two principles that define Marcel Pagnol: freedom and modernity.
Freedom and modernity
Freedom is the one he always chooses, building it as no one has ever done before. Author, director, producer, distributor of his films, an adventure that will remain unique in the history of cinema. He will create his own studios, his own printing plant, his own distribution company.
With the supreme particularity of being an author behind the camera. Modernity, innovation, he will make it, against all odds, his trademark. First with the prescience of talking pictures, which he discovered in 1929 at the London Palladium by seeing "Broadway Melody".
As an avant-garde man, he immediately understood that talking pictures would be the new means of expression for dramatic art. It was with sound that Paramount produced "Marius" and "Topaze" and that Pagnol produced "Fanny" in 1932 in partnership with Braunberger-Richebé before directing his first film, "Le Gendre de Monsieur Poirier", in 1933. "Fanny" was a huge success, which neither the theater nor the silent film supporters would forgive him!
Color would be the other innovation Marcel Pagnol would seize with the ambitious Rouxcolor adventure – created in 1948 by brothers Armand and Lucien Roux. Marcel Pagnol was so enthusiastic that, in 1948, he shot "La Belle Meunière" again in color and using the Rouxcolor process, after having shot it in black and white.
You will also like: