Synopsis
Fanny, abandoned by Marius, marries Panisse who adopts Césariot, the child of love, and raises him as his son. Today, Césariot is an adult and Panisse is dying. Fanny reveals the truth to her son, who then decides to go in search of Marius, his father.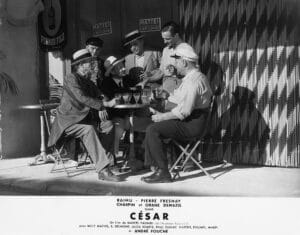 In 1946, Pagnol would talk about his often stormy relationship with actor Raimu. Even in difficult moments, and there were many of them between these two men who had the same accent but also the same "whole" temperament, they found the tone and words to talk to each other. They were angry "to death" in order to better find each other afterwards. They both considered, like Caesar and Panisse, that nothing could be serious enough to justify the most irreparable of losses, the loss of a friend.
THE PAGNOL YEARS – April 1989
Texts by Claude Beylie, Jean Douchet, Paul Giannoli and Jean-Charles Tacchella presented by Pierre Lagnand.
Technical data
Genre: melodrama
Duration : 2h12
Director: Marcel Pagnol
Assistants : Pierre Méré and Pierre Arnaudy
Screenplay: Marcel Pagnol
Photography : Willy Faktorovitch
Second operators : Charly Willy-Gricha and Roger Ledru
Editing: Suzanne de Troeye, assisted by Jeannette Ginestet
Sets: Marius Brouquier
Sound recording : Voisin et Cie, G.I. Kraemer process, Thomson-Houston license
Sound engineer : Georges Gérardot
Assistants: J. Coutellier and J. Bañuls
Music: Vincent Scotto, Symphony Orchestra under the direction of Georges Sellers
Machinery and Lighting : Albert Spanna and Antoine Rossi
Assistants: Latiere, F. Avella, Henri Garcia, Michel Scotto, and Francillon
Masons: Marius Brouquier, Ambrosi, and Olivi
Furniture : Maison David Frères
Decoration : Galibert
Make-up: Albino Constanzo
Development and printing of the Marcel Pagnol Films laboratories in Marseille, under the direction of Albert Assouad
Assistants: Clément Maure, Le-Van-Kim, and André Robert
Production Manager: Charles Pons
Assistants : Léon Bourelly, Jean Adam, and Fernand Bruno
Production: Marcel Pagnol for Les Films Marcel Pagnol
Shooting : exteriors in Marseille, Toulon and Cassis. Interiors in the Marcel Pagnol studios in Marseille.
Distribution
You will also like: