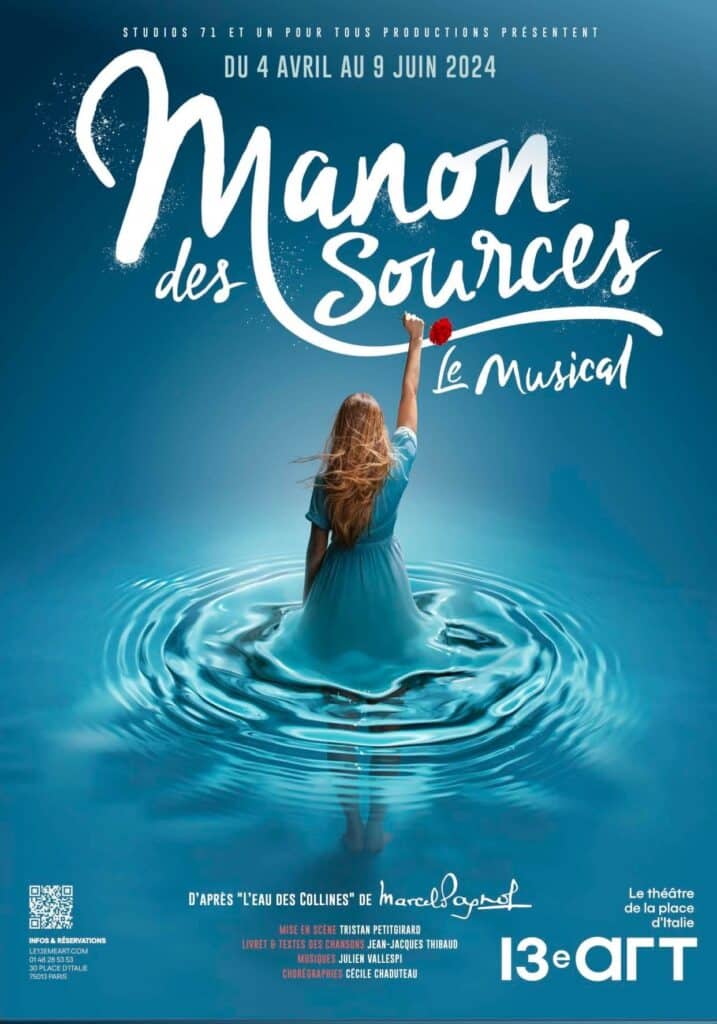 The show "Manon of the Springs, the Musical"
Studios 71 and Un pour tous Productions, in collaboration with TF1, present "MANON DES SOURCES, THE MUSICAL", the stage adaptation of the diptych "The Water of the Hills" (Jean de Florette & Manon des Sources), a masterpiece by MARCEL PAGNOL. This musical comedy, created by Jean-Jacques THIBAUD and Julien VALLESPI, is directed by Tristan Petitgirard ("The Turing Machine").
While remaining faithful to the original work, it offers choreography and modern visuals that enhance the exceptionally rich emotional dynamics. Twenty artists take to the stage to embody the iconic characters (Manon, Jean de Florette, Papet, Ugolin, and others) of this moving adaptation that resonates with a highly topical theme: the scarcity of water.
Developed in collaboration with Nicolas Pagnol, this intergenerational show will, in 2024, be the first major event to mark the fiftieth anniversary of the death of the most universal of Provencal figures.
The team
Directed by: Tristan Petitgirard
Book & Lyrics: Jean-Jacques Thibaud
Music: Julien Vallespi
Choreography: Cécile Chaduteau
Set Design: Juliette Azzopardi
Costume Designer: Virginie Houdinière
Bookings
Book your tickets here
Book your show and musical tickets for: "MANON DES SOURCES, THE MUSICAL" – LE 13EME ART, Place d'Italie, 75013 Paris.
Ticket prices start at: €33.00
Dates: Thursday, April 4, 2024, to Sunday, June 9, 2024
Additionally, you have the e-ticket service available to print your tickets at home immediately after completing your order for "MANON DES SOURCES, THE MUSICAL," as well as an interactive seating chart to choose your seats in the venue: LE 13EME ART.