Synopsis
In a small town in Normandy, the prize for virtue goes to the simpleton Isidore for lack of a young girl judged sufficiently innocent.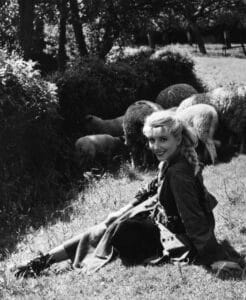 Madame Husson has created a prize to reward the most virtuous young girl in the town. But, as there was no rose girl, the ladies of the committee chose a "rose boy": a naive boy who runs away from the girls who tease him.
In this second film version of Guy de Maupassant's tale, Bourvil plays a simple and inexperienced rosebush whose ingenuity borders on candor and silliness. Marcel Pagnol's adaptation is delightful and tasty. After an excellent start to his career in cabaret, radio and music hall, Bourvil makes his seventh film here.
"Bourvil was first used somewhat foolishly by producers for his apparent gifts and his peasant clown look… This period ended with "LE ROSIER DE MADAME HUSSON". It is not through gesture, since Bourvil does little of it, but through his voice, his verbal flow, and his abrupt interruptions that a relationship is established between what is said and what is not said. His way of "saying without saying" radiates humor in modesty".
Roger Boussinot.
Technical data
Distribution
You will also like: