Gemenos Book Fair, 2nd edition on May 20th and 21st, 2023
After a successful first edition last year which demonstrated the potential and interest of this literary event in Gemenos, the Gemenos Book Fair 2023 continues in a renewed format and with an important national and regional program, under the chairmanship of Nicolas Pagnol – grandson of Marcel Pagnol.
The event will take place on Saturday, May 20th and Sunday, May 21st in the heart of the city, in iconic locations such as the beautiful Cour des Granges – where Marcel Pagnol filmed scenes for his movie 'Regain' – and in the large municipal hall Jean-Jaurès.
A total of 35 authors will participate in the event and invite all book lovers to come and exchange ideas and have conversations at the Literary Café, for public interviews, as well as at the Thematic Meetings, which will take place in the municipal hall. Discussions with the writers will then continue at the Book Fair for personalized book signings.
The program is rich, diverse, and of high quality, catering to all tastes and aimed at adults, youth, and children alike.
The Book in all its Forms
Literature, novels, comics, children's books, fantasy, detective novels, thrillers, historical novels, history and reflection books, childhood memories… all genres will be represented by authors who have proven themselves.
The Cour des Granges will feature a large book fair and a Literary Café, where writers will be interviewed, a creative workshop, and a treasure hunt for children 
The municipal hall Jean-Jaurès will host thematic meetings where experts will delve into a topic or a personality in the company of great witnesses.
With
Nicolas Pagnol / Daniel Picouly/ Franz-Olivier Giesbert / Karin Hann/ Olivier Weber/ Jean Kehayan / Jean-Louis André/ Mehdi Charef/ Achmy Halley / Guillaume Chèrel/ Maurice Gouiran / Patrick Coulomb/ François Thomazeau/ Marie-Blanche Cordou / Jean Contrucci/ Gilles del Pappas/ Vincent Morvan/ Mathieu Pieyre/ Jérôme Loubry / Olivier Descosse/ Gilles Pudlowski/ Fabienne Verstraeten/ Eric Hübsch / Tristan Josse/ Laurette Autouard / Alice Masson- Haroutionian/ Dominique Guenin/ Jean-Louis Boudart/ Éric Gallorini/ Alain Seyfried …And many other authors to discover or rediscover…
On the program
Marcel Pagnol, the Marseille detective novel, France's gastronomy, Marguerite Yourcenar – the first woman elected to the French Academy, on the occasion of the 120th anniversary of her birth, Olympe de Gouges and Women's Rights, Gerda Taro and the Spanish Civil War, stories about comics, wine, and love, memories of school and childhood, and two highlights: 'If I Forget You, Armenia' and 'Publishing, How-to.'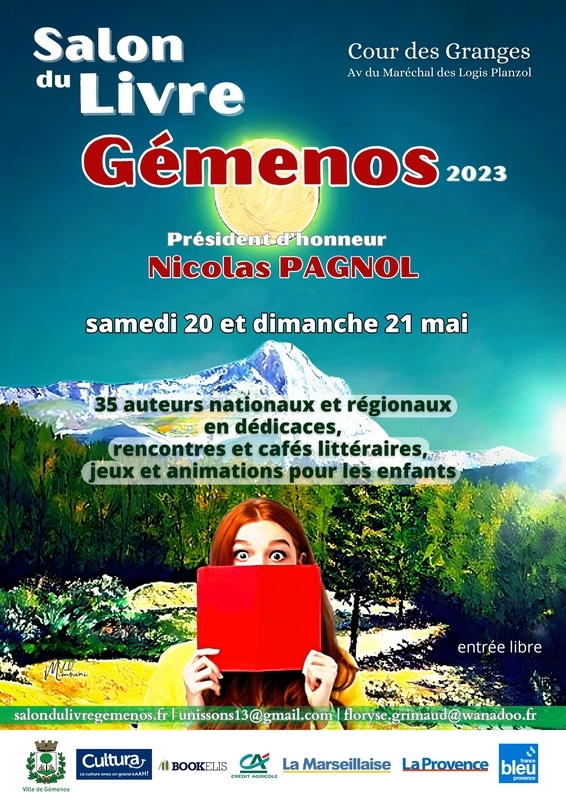 Note that
On Saturday, May 20th at 5pm, the festival-goers will be welcomed at the Literary Café by Roland Giberti, Mayor of Gemenos, accompanied by Nicolas Pagnol – Chairman of the Book Fair – and Florian Allain, President of the Association Unissons.
PROGRAM / INFORMATION / AUTHOR PRESENTATIONS ON salondulivregemenos.fr
They are partners of the Book Fair
Cultura Aubagne will manage the Book Fair, orders and book signings, bringing their logistics and professional expertise in the book industry.
The publisher-printer Bookelis will edit and print posters, flyers, programs and bookmarks that will be offered to everyone.
Crédit Agricole is providing financial support for the Book Fair.
Finally, La Marseillaise, La Provence, and France Bleu Provence are the official media partners of the fair. They will cover and report on the events.
Also noteworthy are the companies Acrotest and the merchants of the Cour des Granges, including La Madeleine de Marcel, Le Fournil des Granges and Le Comptoir des Granges.
We thank them for their support and participation in this cultural event.
Unissons Association and the City of Gemenos: a common goal
The Gemenos Book Fair is an event organized by the Unissons Association and supported by the City of Gemenos. The program is managed by Floryse Grimaud.
With a common goal: to create a successful cultural and economic event for the City of Gemenos, promoting access to books and literary culture to as many people as possible as part of the municipality's public reading development policy.
For this purpose, the entrance to the fair and access to all scheduled activities are free of charge.
On Friday, May 19th in the afternoon, at 5pm – an exceptional public meeting, in 'Prologue' to the fair, will take place at the Gemenos Media Library, in the company of Daniel Picouly and Alice Masson – two novelists whose family history and transmission are at the heart of their inspiration.